Due to the current state of affairs regarding COVID-19, this event has been canceled and registration has been disabled
There is no place on earth like Moab for dualsport and adventure riding. Join us for THE rally of the year! We're already working overtime to make this event a great value - our goal is to make the rally bag itself worth the price of admission :D
TrailTaker strongly believes in supporting trail organizations that provide education, maintenance, and advocacy, therefore every registration for this event includes a built-in $50 donation to Ride With Respect. You can choose to donate even more while registering.
Remember - We are not leading, guiding or otherwise holding your hand on the trails. Due to Government permitting we can only suggest and not create a rider signup. Hence why below the activates is empty for riding. You will be riding when YOU want to ride and where YOU want to go and if you form groups out of safety that is up to YOU. If you are shy do not worry we will help you find a group.
For ride suggestions please visit these user Exploits. That you can download, which are available to anyone who opens a TrailTaker account for free. We hope it will help everyone at the rally so they can form group with like minded individuals and go out and explore. You do not have to stick to our loop ideas as these are ONLY ideas. Go out and explore. Remember you are responsible for your own ride.
User Exploit suggestions:
Pritchett Loop
Potash Loop
Poison Spider Loop
Onion Creek Loop
Needles
Kane Creek
Chicken Corners
Book Cliffs
NOTE: You must make your own reservations at Moab Valley RV Park! Please talk to Stephanie and say you are with this event when making your reservations - more details will be provided in your welcome email.
Stephanie Irish
Guest Services Supervisor
Moab Valley RV Resort
Phone: (435) 259-4469
sirish@suncommunities.com
On Site:
KLIM
Charitable Causes
Ride With Respect
Auction Items / Door Prizes
Trail Tech
IMS Products
Pivot Pegz
Beta USA
*More to come, check back
What do I get for my money?
Event T-Shirt, Sticker, swag items
Non-rider registration includes a standard rally bag
Rider registration includes an enhanced rally bag
Friday night BBQ dinner with sides
Saturday morning breakfast
Friday-Saturday morning Coffee
Raffle ticket - we have a TON of great prizes!
Amazing camaraderie and a large group of people to form groups and ride with!
More... (We'll be working down to the wire to make this event worth every penny for you)
*Registration does not include camping/lodging at Moab Valley RV Park. You must email them and make arrangements for your stay.
Other Great Orginizations
Stay the Trail
Colorado Off Highway Vehicle Coalition
Colorado Motorcycle Trail Riders Association
Ride with Respect
NMOHVA
Blue Ribbon Coalition
American Motorcycle Association
Information From Ride With Respect: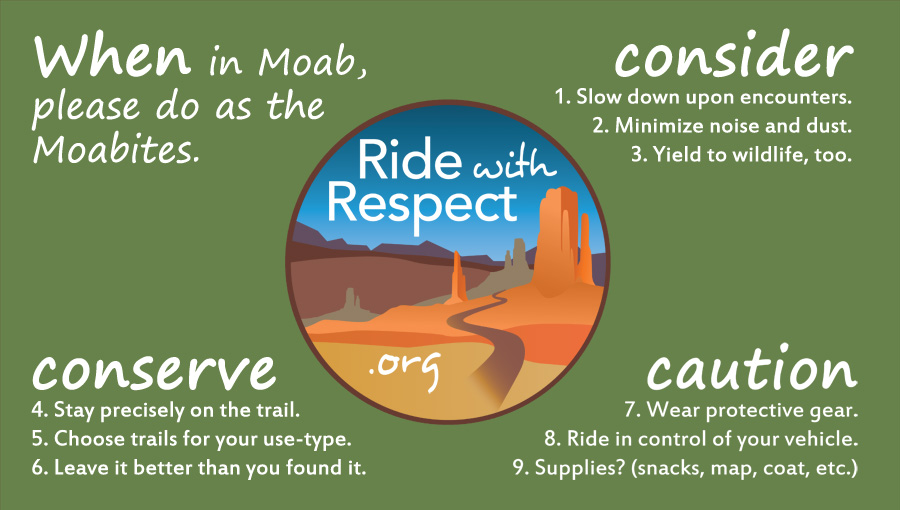 Ride with Respect's motto is Caution, Consideration, and Conservation because all aspects of responsible riding seem to fall into the realms of respecting yourself, respecting others, and respecting the land itself. This message is illustrated well by the following video that also shows off Moab's spectacular trails:
5 Great Tips for an Awesome Adventure in Moab
It's critical to stay on the trail because biological soil crust (living dirt!) is the foundation of life in the desert by retaining water, reducing erosion, and adding nutrients. When passing people on the trail, or even in campgrounds and neighborhoods, please "throttle down" since less sound equals more ground. And plan your rides to be self-sufficient in this remote country, as it's so dry that you should drink at least a gallon of water each day, and cell reception typically exists only at the highest spots.
To ride on public lands in Utah, if you don't have a license plate on your motorcycle, then you'll need to buy a non-resident OHV permit (sticker) online or at a vendor's location in Moab: https://stateparks.utah.gov/activities/off-highway-vehicles/non-resident-ohv-permits/
Most of the sticker revenue goes to Utah State Parks for things like trail work and rider education that benefit our sport.
To ride in Sand Flats Recreation Area (including Slickrock Trail and Hell's Revenge), there is an entrance fee ranging from $2 per day if you enter on a motorcycle to $25 for an annual pass, and these fees are spent entirely within Sand Flats: https://www.discovermoab.com/sand-flats/
To ride in Canyonlands or Arches national parks, your motorcycle has to have a license plate, and your speed should be kept down at all times (not just when passing or approaching blind curves). There is an entrance fee of $25 that you can pay at the booth or online (especially if you will enter the park somewhere other than the booth): https://www.nps.gov/cany/planyourvisit/fees.htm
Riding the White Rim or Elephant Hills roads requires getting a free day-use pass that is available online, but only starting 24 hours in advance of your desired trip date: https://www.nps.gov/cany/planyourvisit/dayusepermits.htm
All these things should help make your ride gentle on the surroundings, relatively safe, and especially satisfying!